Shopping Cart
Your Cart is Empty
There was an error with PayPal
Click here to try again
Thank you for your business!
You should be receiving an order confirmation from Paypal shortly.
Exit Shopping Cart
| | |
| --- | --- |
| Posted on July 1, 2012 at 4:42 PM | |
These government entities wanted to be sure I was aware of their strides and accomplishments. 
In the next photographs you can read the statements verbatim of State Attorney Angela Corey, State Attorneys now lead investigator Dale Gilbreath. 
The third photo is of the then Chief Medical Examiner for Jacksonville. 
The two officials Angela Corey and Dale Gilbreath have not done what had been advised they were going to do on the murder case of Natasha Boykin.  Instead they chose to put all cases aside to concentrate solely on the Zimmerman case.  This is patheticly sad within itself to say the least, especially when their actions contradict their infamous theories announced to media and public that this is the way cases should be handled.  I assume this is specificaly considered as an exception of their own chosen cases. In other words if they neglect to do their job to begin with then there is no turning back or admissions of error.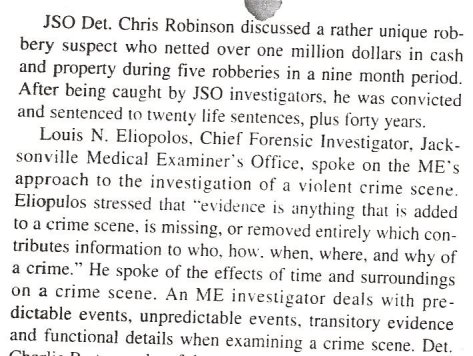 Notice how Angela Corey speaks of importance of having a prosecutor at the scene of any violent crime - although her lead investigator was the investigator for the area where Natasha was found deceased, the State Attorneys Office never arrived at the scene or became involved until several months later, even then the investigator never observed the crime scene photographs or investigated.  Subpoena's were issued and never complied with, even to this day.  
Angela Corey goes on to state that the philosophy for a prosecutor has a duty to  "Seek Justice" not just convict, then proceeding to her three 'I's" philosophy.  This whole statement from this article back to 1993 is a dejavu of what was spoken nationally for the announcement of the Zimmerman trial. 
As we have stated in past postings her lead investigator took a sworn oath on Zimmerman s first bond hearing stating he had identified s"stippling" on Zimmerman and Trayvons sweatshirt.  His involvement as an investigator in addition with his assessment had been made more than five weeks after the incident took place. 
State Attorney/ Special Prosecutor's lead investigator Dale Gilbreath could only identify "stippling" from crime scene photographs.  The same for Natasha Boykin case.  Their refusal to investigate Natasha's murder for the limelight movie star mentality of the petitioned 2 million signatures in favor of Trayvon is very sad if that is indeed what it takes for them to do their duties in seeking justice for ALL innocent victim's.
As for the procedures for an investigation by the medical examiners investigators and office (the statement made by the then Chief medical examiner) is the same manner of which there should have been on Natasha Boykin's case.  There should be or have been investigative questioning prior to signing a death certificate.  Instead they follow by the rulings stated by law enforcement (police officers) who concurred as a suicide an hour and a half of the detectives stepping into the case. 
We retain a tape from the medical examiner who signed Natasha's death certificate as a suicide without investigation admitting she went by what the police told her.  Additionally we have three letters stating the same on another case.
We are continually advised that the Jacksonville Beach Police Department has jurisdiction and it does not matter about suspects close personal ties - they refuse to listen to us or the new evidence we retain now. This new evidence is something no agency knows about at this time because they refuse to listen to us.  As for now we have no alternative but to do what we need to do and that is to address the public and the court of law. 
All the people are known by law enforcement as stated "they are just a citizen".  Explaining why if it was one of their lost loved ones or fellow partners is the only time they would be willing to spend tax payers money to investigate.  When their is malfeasance within a goverment agency against the people (citizen) then you would be advised to hire counsel (attorney), although they are protected by goverment counsel who is paid for and expenses are covered with tax payers money. Issues get hidden, falsified and flagerantly concealed by fellow agencies code of silence, no matter how right or wrong.
We ask for the peoples support in our fight for "Justice for Natasha".  We can only begin with this case for now but have other cases on standby. 
Truth Seekers for Justice (non profit) is now asking for your donations to contribute toward legal costs in our challenging fight for TRUTH in JUSTICE!
Categories: Ask Governor Scott for Special Prosecutor assignment on Natasha Boykin case
/