Shopping Cart
Your Cart is Empty
There was an error with PayPal
Click here to try again
Thank you for your business!
You should be receiving an order confirmation from Paypal shortly.
Exit Shopping Cart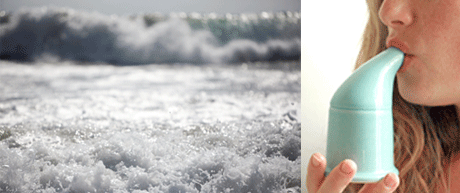 imalayan Salt Pipe Inhaler is designed to replicate the healing of salt caves. When the air that passes through the salt pipe it comes into contact with the super fine salt crystals, they are absorbed quickly into the respiratory system, giving the person almost immediate relief from most breathing disorders.
Comes complete with Himalayan Salt, stands 5 inches tall and is easy to handle
The effects of the mineral salt inhaler have been proven in both Clinical Studies and through multiple peoples' testimonials
•Sound Sleep:
Night suffocation and coughing is dramatically reduced or eradicated completely.
•Comforting:
Gives ease of depth to breathing.
•Can Relieve
Asthma, nasal catarrh, sinusitis, breathlessness, bronchitis, pharyngitis, tonsillitis, night coughing, rhinitis, irritation and coughing caused by pollution and smoking, hay fever and other allergies
•Breathing
Helps you breathe more easily
•Cleansing
Helps to cleanse the respiratory system
•Mucus
Becomes thinner thus easier expectoration
•Smoking
Can help smokers combat withdrawal symptoms.
•Travel
Hydrates Respiratory System Onboard Airlines
•Sharing
Salt Pipe Inhalers are normally not shared in the same way people don't share a toothbrush
•Cost and Value
A Salt Pipe Inhaler can last up to five years which makes it inexpensive.
• Hippocrates
Salt inhalation was recommended by
Hippocrates, the father of modern medicine, who applied the age-old method of inhaling the steam from boiling saltwater
Himalayan salt has great properties like antibacterial, anti-fungal, and antimicrobial.
/